Jeeperman Bumper Pictures
www.jeeperman.com or www.raingler.com
These bumpers are awesomely strong and have all kinds of goodies like D-ring Clevises, CB Antenna mounts, Tow chain hooks, etc.
Here's my rear tailgate after removing the un-used rubber bumpers, rear taillight, etc. I used "Dorman" brand body panel plugs (available at most auto parts stores) to fill the holes vacated by the rubber bumpers and taillight mounting frame.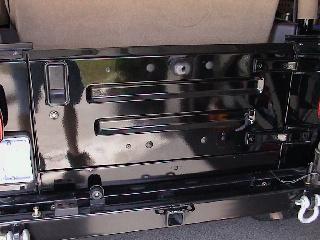 I purchased my Jeeperman bumper in 2002- 2203, and I know their design has changed, but I need to point out that the rear swing-away carrier has a spring-loaded pin to prevent excessive opening of the rear carrier; and it has rusted and seized on my bumper. I have had to disassemble the locking pin, hammer out a 1/8" roll pin, and sand the shaft to allow the spring to operate properly again. This thing was seriously rusted, and should have been made from stainless steel from the start. The latest pictures from Jeeperman indicate that they have upgraded the materials on this component. From dealing with Eddie at Jeeperman, I'm sure that he will rectify the issue as soon as I contact him. Their customer service if outstanding..
I contacted Eddie. He informed me that they have redesigned the pin and hinge. Yet, he make me a new pin, with the old design, to solve my corrosion problem. I highly recommend Jeeperman products because of their customer service and quality parts.
Here is a photo of the replacement pin that I received.

This page was last modified on Tuesday, 09-Feb-2010 01:17:47 CST